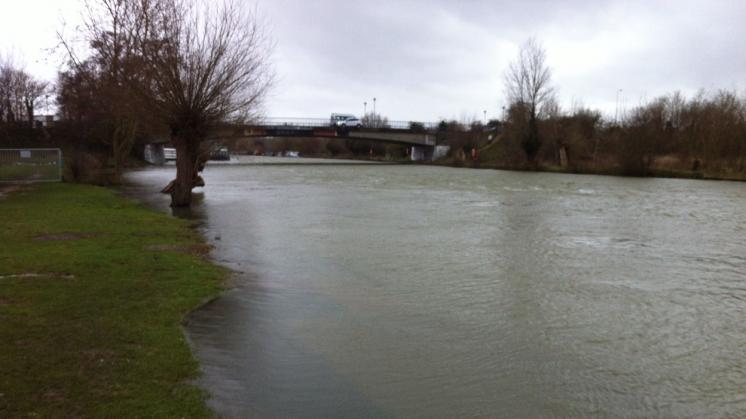 River Safety and Risk Assessment
The colour of the flag is determined by the Oxford University Rowing Club's (OURCs) and represents how fast (and therefore how dangerous) the stream is on the Isis and consequently shows which OURCs rules are in force.
Before setting out on the water, each person should complete a number of checks which are noted below  as part of a dynamic risk assessment.
In summary, if an organised club session, the experienced coach on duty will make a judgement call based on competency of the participants and on the conditions. If you are going on the water outside of an organised club session, it's your own responsibility to make the call. The default position for all is "Any doubt, don't go out!"
RIVER CONDITIONS
There are a number of sources of information about the river conditions.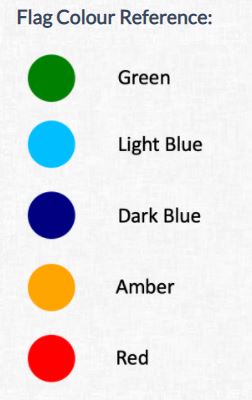 When the river level is above normal, Anu's Isis Level gives a good picture of what is happening. It also include links to one of the Oxford weather stations and the Osney and Iffley Lock river gauges.
City of Oxford Rowing Club have an online weather station that gives current temperature and wind speed when it is operational.
WEATHER
Rowing and kayaking can also be dangerous if it is too windy, too foggy, too dark, too cold (especially if there is ice in the river) or if a storm is due e.g. with lightning.
BBC
Met Office
Weather forecast for Oxford. More detailed than the BBC site and includes probability of rain for a given time!
Recent weather map. The rain radar can be very useful to see what has just happened and what is likely to hit us next.
Recent weather table - you can check on the actual wind speed (as measured at Benson)
BOATS AND EQUIPMENT
Carry out the basic checks to ensure that your boat and equipment are fit for purpose.