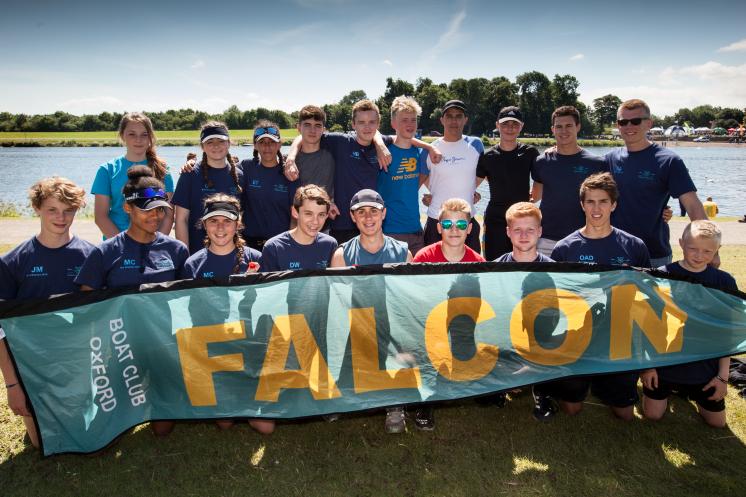 Racing
For those of you wanting to compete in a race, there is lots that you need to know, and it is often a steep learning curve! Below are explanations of the types of races you might compete in, types of boat and classifications. You will also find links to the homepages of almost every race in the Falcon Juniors calendar.
The attachments below are important. You will find the termly race schedule, checklists for both juniors and parent co-ordinators, a guide for what to wear, and most importantly, a general information document- which tells you everything else!
Types of Races
The rowing season runs from September to August. The first part of the season (September-April) consists of time trials "Head Races", and the second part of the season (April-August) consists of side-by-side sprints "Regattas".
Heads
Head races, also known as Processional races, generally take place from September- March/April. These are time trials, in which one crew at a time races down the course with a time being taken.
Races are generally split into divisions (morning and afternoon, or 3 or 4 over a day)- some races will specify which events are to run in each division, and other races will allow you to race in any. This means that potentially your opposition may not be racing at the same time as you, and also means that results are often not available until the end of the day's racing.
Head races generally take place over longer distances, ranging from 1500-5000m on non-tidal waters, up to the 6800m of the Tideway Heads.
A head race usually begins with a 'rolling' or 'flying' start- a crew will be told to 'Go' by a marshal, with the actual timing not starting for another 50m or so, which allows the crew to build to full speed before crossing the start line.
Regattas
Regattas generally take place from April-August. They are side-by-side races, run in a multi-lane format. Most rivers are not wide enough to accommodate more than 2 or 3 racing lanes, whereas the big events at Dorney Lake and Nottingham usually run with 6 racing lanes.
Some regattas have heats taking place in the morning, and potential finals not until the evening, whereas others have divisions to allow doubling up. In regattas with divisions, the heats and finals of the first division will take place before the second division starts.
Processional races are often used at the major junior regattas due to the number of entries, with the top 12 or 18 progressing through to side by side semi-finals.
Regattas take place over shorter distances, ranging from around 500-2000m. A regatta begins with either a 'standing' or a 'free' start. A 'standing' start involves a small stake boat with a volunteer holding on to the stern of the racing boat, followed by an Umpire saying 'Go' and lowering a flag. A 'free' start is much the same, but with no stake boat holding the racing crew in place.
The race is not usually timed, and is a 'first past the post' system. Once all crews have finished, it is traditional and polite to do three cheers for the opposing crews.
Racing Categories
For the uninitiated, crew selections and draws can look like complete nonsense! I have attached some annotated, sample draws below.
At Junior level, entries are grouped by school year. These are referred to as Junior XX, abbreviated to JXX, or WJXX for girls. The number refers to the age each junior will reach by the end of the academic year- so Year 10s race as J15, Year 11s at J16 and so on.
There are ususally several adult categories, bands or tiers, based sucess of previous wins. British Rowing operates a points based system in order to progress upwards through these categories.  Points are awarded separately for sweep and sculling.
Crews can always 'race up', and often do.  For example, inexperienced J16s or 18s are often better off racing the lowest adult band than their age group against experienced juniors. It is common, when there are not enough entries in a category, for a crew to be automatically moved up in order to have racing opposition. However, J14s and below are not allowed to race more than one year up.
General Events
Isis Sculls: http://www.oxfordrowingclub.org.uk/rowing-events/isis-sculls/
Weybridge Silver Sculls:  https://www.weybridgerowing.club/silversculls
Walton Small Boats Head:  http://www.waltonrowingclub.co.uk/walton-small-boats/
Northampton Head: http://www.northamptonrc.org.uk/head/head.aspx
Abingdon Head: http://head.abingdonrc.org.uk/
Marlow Events Spring & Town Regattas: http://www.marlowrowingclub.org.uk/races
CORC Regatta: http://www.oxfordrowingclub.org.uk/rowing-events/oxford-city-royal-regatta/
National Events
Oarsport Junior Sculling Head & Regatta: http://www.thescullery.org.uk/
National Schools Regatta: http://www.nationalschoolsregatta.co.uk/
British Rowing Junior Championships: http://www.britchamps.org/juniors