Are you looking to start rowing, canoeing or kayaking?
Falcon Boat Club provides the opportunity for people of all ages to enjoy the river and benefit from its place in our community in Oxford.
Visit the Contacts page for more information on who to contact and how to get involved!
Clubhouse 150
Throughout Falcon's history the Club has never had its own clubhouse. As part of our 150th anniversary we set a goal to have plans and funding in place to finally be able to build one, giving us somewhere to train, socialise off water and support our wider community activities. After some incredible work by a group of members, donations from large numbers of club users, funding boading and very generous individuals, construction was able to begin in September 2020.
You can find out a bit more on our Clubhouse150 Construction page. There are also photos of progress to keep up-to-date from whereever you are. 
We still need to raise a lot more money to fit complete the building and we can't do this without your help. See below or read more here.
Help us raise funds when you shop online
If you shop at Amazon, be sure to make Falcon Boat Club your charitable organisation of choice and access Amazon via the Smile Amazon link. Amazon will then donate 0.5% of the price of eligible purchases to Falcon. Just click on the Amazon image to get started.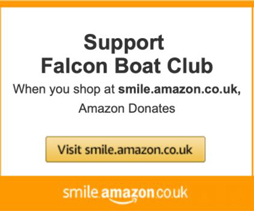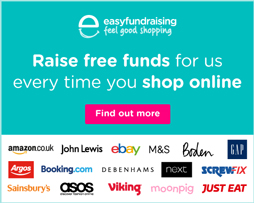 You can also use easyfundraising to shop with over 3,600 retailers including Argos, John Lewis, ASOS, Booking.com, eBay, Boden, and M&S.
Every time you shop, you'll raise a free donation for Falcon Rowing & Canoe Club every time, it's that easy!
Sport England funding towards the new clubhouse
We are delighted to be able to announce that our latest bid to Sport England for assistance with the funding of the new clubhouse has been successful with a grant of £75,000.  

Garfield Weston Foundation funding towards the new clubhouse
We are delighted to announce that the Garfield Weston Foundation has pledged a grant of £25,000 to our boathouse project.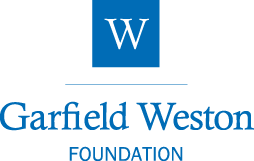 How can I donate
See how you can make a donation through our pledge page or via the Wonderful donation platform.
Sport England funding of a new touring boat (May 2019)
Thanks to a Sport England grant which enabled the purchase of a new touring boat the club is now able to deliver beginner and return to rowing courses to a broader spectrum of rowers in a lightweight coxed touring quad. Following the successful reintroduction of Covid-safe rowing in singles and household doubles we have now been able to resume limited crew boat activity. The additional boat means that Falcon can continue to offer touring rowing to existing members whilst also introducing rowing coaching specifically for recreational rowers, to include coxing skills.